In the summertime, when the weather is high, it's fairly pleasant to stand around in parking lots in the evening enjoying fine tobacco and shooting the shit with other ne'er-do-wells. I was doing just that t'other night with a couple friends and this old biker dude from southern California who's been hanging around lately – not a total asshole, but not anybody who I'm going to especially miss when he leaves town either.

Biker was talking about his various sexual escapades on the road. He related one anecdote which involved a homeless woman who didn't have any teeth. "She wasn't bad looking, man. I don't what happened to her teeth." I made a comment about having some standards regarding teeth and he went off on an all-too familiar rant.

"Man, don't give me that shit. Every dude is biologically hard-wired to fuck chicks, man. That's how God intended it to be; that's how it is, man. Don't even try to tell me that if some hot chick was standing there offering up some pussy you wouldn't jump right on it just because she didn't have no teeth because I know that's bullshit, man. I know it, you know it, he knows it, God knows it because that's just how it is, man." Blah, blah, blah. Same specious justification I've heard countless times from countless dudes who somehow feel that they need to convince me that God wants them to fuck every female they can possibly fuck, married or not, underage or not, too drunk to walk or not, catatonic or not. I elected not to get into a debate with Biker Dude. There's no possibility of making any kind of positive change in a situation like that and he'll be roaring off to Fuckall soon enough anyway, snow-white handlebar moustache flappin' in the wind.

I'm certainly not denying that all known living entities are programmed to reproduce. Of course that's true. Nor am I saying that there aren't men who go anywhere their dicks lead them. Obviously there are. What rankles me is when dudes proclaim that poking their peckers into any female who will stay still for it is absolutely right and good and natural and is, in fact, what God intended for them to do and that any man who doesn't shout "Amen, man!" is lying and also probably envious of their talents, abilities and freedom. Biker Dude didn't say "You're just jealous, man", but I've heard that line from other dudes. As if there was anything stopping me from living that lifestyle other than my own desire not to.

Of course, I've had casual sex. It isn't really all that hard, especially when you and everyone you know is drunk and/or on drugs and doesn't care about themselves or anybody else. I was never much of a rake, preferring monogamy, having relatively high standards and being unwilling to take advantage of anyone who was more fucked up than me, a state that would've been hard for anyone to attain in any case. Since I got straight, I've had a few encounters, but I eventually came to the conclusion that casual sex just isn't that interesting. I'd honestly rather draw or read or record phased banjo over recordings I surreptitiously made of the Christian, folk-pop, teenaged, sibling band that practices in the basement of the house where I currently live. Or go hiking or watch movies that most people never heard of or stand around shooting the shit in parking lots or write or play shows or just about anything other than rub myself against the potentially diseased mucous membranes of total strangers.

Sex is good, don't get me wrong. I'm in favor of sex. A few years back, BDSR released Hymn To The Beast With Two Backs, an eighty-minute celebratory soundtrack for sex. The back cover art for From Pussys To Death And Back Again/Eternal Freakout was a photo of a masked, naked woman with her legs spread holding a sign that read "The Big Drum In The Sky Religion loves you." (That was based on a photo of Grace Slick from the old 2400 Fulton Street house.) Les Origines Des Mondes has close-up, black and white photos of male and female genitals on the cover. (Referencing Gustave Courbet's "L'Origine Du Monde".) I'm currently looking for a lady who will let me draw on and photograph one of her boobies for the cover of a 3" titled Daevas From Nipples. (If you don't know that's taking off Acid Mothers Temple's Demons From Nipples, y'oughta be ashamed.) I'm not opposed to sex, not even casual sex, I just don't want to engage in it.

I feel no need to proclaim that my attitude is right, good, natural and in accordance with God's plan as opposed to any other. It's right for me.

I do find some images, actions and attitudes reprehensible. Exploitation sickens. I received a package from a label recently, my copies of a BDSR release plus a few other releases that the label guy kindly included. A couple of those had cover art that included images taken straight from porn. It wasn't the first time that happened. I doubt it'll be the last. My first thought in cases like that is "Should I stop working with this label? Am I compromising my integrity by associating myself with a label that puts out stuff with misogynistic art?" Then I remember the BDSR releases with genitals on the covers, then I remind myself that referencing a thought-provoking and generally amazing 19th century painting isn't quite the same as writing the name of the band and album on a page torn from a bukkake magazine, then I remember my father lecturing me about guilt by association and being judged by the company you keep and yadda-yadda. I have not yet broken relations with any label on the grounds that I didn't enjoy the cover art another band used. I'm not 100% comfortable with that, but it comes down to the fact that I'm trying to get a message out there and I'm more interested in reaching the sinners than the saints. I assume that the label guy will get around to sharing that BDSR thing with the bukkake-loving grindcore bands on the label. Maybe it'll make a difference. Or maybe this is the Kali Yuga and we're all just sliding down the decadent and degrading drop-off to universal destruction. I dunno.

Sex is good, but morality and decency ain't bad. Naked cover art is controversial, but it isn't always exploitive. The desire for sex is not a mandate to fuck any/everyone you can get away with fucking. Old bikers aren't always creepy, but sometimes they are.




I was driving around in the little red truck t'other day, listening to some old BDSR cassette which had some sped-up, backwards spoken word parts and I liked how that sounded and I haven't pulled out that cliché in a while so I decided to rehash it on the thing I'm currently working on. I was gonna use one of those tapes of some Baptist yammering that you can pick up for free all over the Bible Belt, but the one that I found first had been laying on the floor of the truck and was even more static-hissy and blighted than I wanted and then I found a discarded library set of The Autobiography Of Malcolm X. I've used Malcolm X before – the "By Any Means Necessary" speech, on a split cassette that was released in Germany a couple years ago – but why not? I pulled out a tape at random and started working with it.

I dig Malcolm X. That cat was right on. He scared the piss out of white folks just by saying things like black people should defend themselves when they're attacked. Granted, scaring the piss out of white folks isn't difficult, but Malcolm took to the next level. Then he went to Mecca, got born again again and started talking shit even the Nation of Islam couldn't handle. Bad ass muthafucka. I put Malcolm in the same category as Stonewall Jackson who – eeeeeeeeeeewhat? Yeah, that's right – Malcolm X and Thomas "Stonewall" Jackson. If you're not from the South, you might believe that Jackson was in favor of slavery. He wasn't. Neither was Robert E. Lee. Both of those guys were opposed to slavery and both of 'em fought for the Confederacy because they were native Virginians and loyalty to their home state took precedence over all other concerns.

X and Jackson were both fighting for the freedom of the population they identified with; both were religious men; both stood up for their beliefs knowing that lead was gonna fly. Jackson was no more in support of the oppression of blacks than X was in support of the oppression of whites. If it ever comes down to it, I hope I have the courage and conviction of either of 'em.

We live in an era of mass ignorance. Maybe that statement has always been true, but it sure is now. I am surrounded daily by people who are apparently incapable of understanding any perspective other than their own and who assume that any attempt by any one not in their in-group to improve their own quality of life is an attack on them. Which is ridiculous. I'm white and male and I'll be danged if I can see how blacks and/or women making progress is going to harm me. I certainly don't see any benefit to me in helping to perpetuate the racist/sexist status quo.

What's to be done about racism? I certainly don't have the answer. I try to avoid public controversy, but even so, I sometimes find myself straying into dangerous territory. I have a couple back-up medicine hat/masks for people who want to participate in BDSR, want to wear headgear and don't have anything handy. One of them is a straw hat with a Confederate flag sewed over it hanging down over the wearer's face. I made it assuming that it was obvious that any band which promoted religion in general and shamanism in particular could not possibly be a racist group. I figured anybody would assume that the Confederate flag hat was a way of addressing stereotypes about Southerners and racist symbols. So far, only one person has been willing to wear that particular medicine hat onstage: Joshu Mu, a native Virginian who generally enjoys causing trouble and ain't got a lick of sense. He ended up ditching the hat halfway through the set because it was dusty ad he has allergies or some shit. That show happened in the basement of the local Ethiopian restaurant, where I worked at the time. The manager of the place then was a woman whose parents immigrated to Virginia from Ethiopia. She has a tattoo of the Confederate flag on her arm right next to a tattoo of Africa. Native Southerner with African roots. Makes sense to me. Other people have responded to the Confederate flag hat like it was a burning cross or swastika.

The swastika, now there's a symbol which has been debased and maligned. For tens of thousands of years, the swastika had only positive connotations. Usually, it was associated with the Sun. Hitler knew that, of course, when he adopted the swastika as the symbol of the Third Reich. It's tragic and pathetic that the entire Western world just gave up on the swastika and let it be turned into a symbol of anti-Semitism. Hindus and Buddhists continue to use the swastika as they had for centuries, which demonstrates an admirable commitment to a perfectly good symbol, as well as a certain amount of balls. I wish Jews would co-opt the swastika. That'd be fucking awesome. That would be a blatant slap in the face to all neo-Nazi shitbags who currently enjoy inspiring anger, fear and general antipathy every time they scrawl a hooked cross on a wall. That power should be taken away from them. All power should be taken away from them.

What would the KKK do if Southern blacks started sporting Confederate flag shirts? They'd have to give up the Stars and Bars, that's what. They'd lose the power.

We might not be able to eliminate racism entirely from the world, but we can drive it into a corner and strip it of everything it has. The way to achieve that goal is through education. Not public school education, of course, that's mostly lies and the rest is partial truth. The public school system caters to the lowest common denominator and they're not really interested in teaching so much as indoctrination which is why they spread bullshit like about how the Civil War was all about slavery. Slavery was a big issue at the time, but it wasn't the only problem that needed dealing with. And the Civil War didn't end it. Maryland and Delaware had slavery after the Civil War ended.

The truth is much more complicated than any of us were taught in history class and much more interesting. Contemporary accounts help a lot. Abraham Lincoln believed that black people were inferior to whites in all ways, but he was opposed to slavery. In order to understand his position, you have to understand the attitudes of his time. He may have changed his mind about the white/black thing. He met frequently with Frederick Douglas, an educated black man, all through the Civil War and very well may have reconsidered that, but he was assassinated by an avowed racist before he demonstrated a change of heart.

The best education any of us can get on the issue of race relations is through personal interactions with people of other races. (To white readers: I know, they're scary, but they're really just like you under the skin. Stay calm – they can smell fear.)






- The name of this band is The Big Drum In The Sky Religion, shortened when desired to Big Drum Sky Religion, abbreviated BDSR. For some reason, people want to leave off the first "The", which isn't a big deal. One time, we were billed as Big Drum & The Sky Religion, which was a little silly. More than once, it's been sliced down to Big Drum. Sometimes, the unwieldy name is lengthened to The Big Drum In The Sky Religion Is Not A Religion, but not often.

- Little known fact: the last two notes of the Boredoms' "Melt Down Boogie" are the first two notes of the riff from Pussy Galore's "Cunt Tease".

- Harmonics are only supposed to be possible on the fifth, seventh and twelfth frets. I have gotten them on the third. It happened accidentally once and then I tried to do it again and it happened again. I have no explanation for this nor do I feel any need for one. Impossible things happen sometimes.

- The other day, I took the little girl to church and as we were getting out of the car, I spilled my coffee and said "Oh, shit". The girl asked "Daddy, why did you say 'Oh, shit'?" So I lied: "I said 'Oh, shoot' because I spilled my coffee."

As we were walking into the church, holding hands, she looked at me and said "You know, Daddy, it isn't very nice to say 'Oh, fuck'."

- I am male; therefore I have never experienced menstrual cramps. However, I would never say to any of the female people in my life "Your menstrual cramps are not real. You're just imagining it."

Atheists are people who have never had religious experiences and who claim that those of us who have are just imagining it.

- The spiritual battlecry of BDSR is "Kill the wounded; mutilate the dead", but it's meant in a purely metaphorical way. For now.

- It is not at all unusual for this Espresso Shaman paraphrase Smokin' Joe Campbell's theme that myth is poetry, that myth should be read figuratively, not literally. I absolutely affirm that it is so and I love it for being so. However, no one should infer from that that I like poetry. I do not. There was a period of my life when I thought I did like poetry, but really, I just liked my own poetry. I don't think I was the only person at open mic poetry readings who was only there so they could read their own stuff and didn't give a rat's ass about anybody else's shit. After I stopped smoking cheeba, I realized that my poetry sucked as much as everybody else's. I do have a book of Japanese death poems, Japanese Death Poems, which has some great pieces, all of which are really short, and I like some of William Blake's really short poems – "The Proverbs of Hell" are awesome, though The Marriage of Heaven and Hell, of which they are a chapter, is kinda tedious. Other than those few examples, I can't think of any poetry off the top of my head that I like, but I love me some myth.

- BDSR had two local shows, a week apart. The flier for the first had a picture of a woman breastfeeding a baby; the second had a still from a '70's disaster movie: a woman covered in her own blood. One business downtown wouldn't put up the breastfeeding woman, but the other one was okay.

Our society is fucked up.

- Browny's Vox Maxim: There is no vocal track so flat, off-key or otherwise terrible that it cannot be rendered awesome by the simple application of fuzz. (More than one coat may be necessary.)

- The last time I checked, the number of deities being worshiped in India was something like 3,600 which is awesome in and of itself. The thing that makes it even more awesome is the fact that the average Hindu on the street is cognizant of the fact that all those deities are metaphors, images that represent the incomprehensible Mystery which underlies and animates the Universe. They know that there isn't a four-armed, blue-skinned magic man with an extra eye in the middle of his forehead dancing to keep the stars spinning or a chubby, elephant-headed dude riding around the cosmos on a rat or a flesh-eating, corpse-fucking chick lurking around looking for the chance to chop off their arms for her skirt. They know all that and they still keep right on going with it, century after century. That is fucking awesome.

- People used to say that the music of BDSR didn't "go anywhere". Maybe people still say that, but nobody's said it to me for a few years.

I never understood what the fuck that was supposed to mean. Where is music supposed to go? Where can it go except from its source to your ears? I honestly do not understand. I listen to a lot of music - ragas, free jazz, old-time, punk, new wave, no wave, hardcore, pre-war country blues, anthropological field recordings of naked savages chanting and beating slit drums, bagpipe regiments, grebo, gospel, noise, gamelans, heavy psychedelic, probably some other stuff that I can't think of. None of it "goes" anywhere. Some of it evokes emotions. I listen to that stuff when I want to experience the emotions it evokes. Some of it helps me enter into a mentally turned-off zone which I find pleasant. I listen to that stuff when I'm drawing or painting or just zoning out. It's possible that I'm missing out on something, that other people are having some kind of listening experience that makes them feel like they've gone someplace, but I don't think I want it. If I want to go someplace, I'll take the little red truck. It's got a cassette player – I can listen to Native American war chants along the way.

- Some great quotes by me:

"Atheists and fundamentalists are equally annoying and for the same reason."

"Things are seldom as they should be, but they're always as they are."

"Unsought advice is insult; unrequested help is injury."

"Better to suck originally than be great at copying."

"It's amazing what you can accomplish when you don't know any better."

"I don't hit on women. I avoid any situation in which success is the worst-case-scenario."

"When you're dealing with crazy people, it's important to remember that they're crazy."

"If what you see is all you see, you're missing most of it."

"Honesty is the best policy if you don't want friends, sex or money."

"Fuck a bunch of irony."




Powered by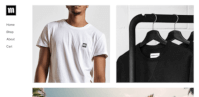 Create your own unique website with customizable templates.