Hey, howdy. How's things? We're all doing pretty decent here at BDSR HQ. Stuff is always going on and that's how we like it.
Our recentest release is
Turning Trickster
, available on the download and cd formats from the good folks at Have you said Midi?(
https://hysm.bandcamp.com/album/turning-trickster-hysm-112
). We generally don't release stuff we're unhappy with – though we do sometimes look back on earlier releases and wonder what we were thinking when we did that – but
Trickster
is one of those that stands out as an especially inspired project, one that conveys more clearly what BDSR is about, which in this particular case is the archetype of the Trickster, personification of creative chaos.
Oh wait, after I wrote that paragraph, I was going to say that we had something coming out from Ingrown Records soon and I checked their Bandcamp and discovered that it's out now, which means that
Sweetheart Of The Ashvamedha
is our recentest release and can be found here -
https://ingrown.bandcamp.com/album/sweetheart-of-the-ashvamedha
. That'll also be available as a cd and you can get both of the above from us or from the respective labels, whichever seems easier.
There are cassettes in the works from HysM? and Ingrown. The one from HysM? will be a split with our old friends Garage Olimpo! and Ingrown is handling a tape that has BDSR on both sides. No definite word on when those will be out.
We got a cassette in the mail recently, from Deep White Sound,
http://deepwhitesound.com/
, a tape of a sound project BDSR contributed to. We've got a few things available through Deep White. While you're there, you might as well check out some of the other artists/bands.
Artetetra - http://artetetracollective.tumblr.com/ - has a behemoth titled
Twin Infinities (Feel God About Your Body)
that they've been sitting on while they wander around the former Axis countries, lolly-gagging, spacing out and generally being silly. Feel free to pester them to get the fucker out before Greece collapses and sucks the entire Euro Zone into the bowels of Mother Earth.
Speaking of whom, we continue to solicit participants in the
My Goddess Has A Crazy Bush
compilation series. The third installment –
All Natural
– will be released at some point. We have several tracks for that one – including a good handful by folks we've not worked with before. The point of the
Crazy Bush
series is to highlight the metaphorical relationship between women and the Earth and to promote the radical notion that both are both are sacred in their natural state. We also try to put together good compilations – diverse collections of music.
All Natural
is shaping up pretty nicely. (We still need tracks, so feel free to contribute.)
There's another
Crazy Bush
comp in the works –
Mad Pride Goeth Before A Fall
. That one continues the environmental theme, but adds a twist – mental illness. Participation is limited to artists/musicians who have or have had some kind of mental illness and who are willing to go public about it. See, we, the insane, are the most marginalized motherfuckers on God's green Earth and sometimes we want to do something just for us and our crazy compatriots. We'd really like to take over completely, but right now we don't have the numbers and the voices in our heads are encouraging us to wait. Until the time comes for the uprising, we're killing time. The pool of possible contributors is smaller for
Mad Pride
is limited, so it'll take longer to put it together. But there are a few tracks in and they're pretty awesome.
Somebody is making noises about releasing BDSR on vinyl. Possibly next year. We're in the early stages of talking about it and the label is just getting fired up, doesn't have a website yet, so we can't promote them, but we will when they get the thing up. Putting something out on vinyl would certainly be a feather in the medicine hat.
After taking a year off from shows to do other shit, we're returning to the stage in a month. 31 July, we'll be performing at the Pyramid Atlantic Arts Center in Silver Springs, MD, with VV/LD T0RVS, Pas Musique and Chuck Johnson. That show was organized by the people at Sonic Circuits - http://dc-soniccircuits.org/ - and we're thrilled to be part of it.
This is as good a place as any to announce that we've lost all interest whatsoever in performing in our hometown, Harrisonburg, VA. The local scene has never been all that interested and we see no reason to beat that particular dead horse any longer. We would be willing to play in H'burg if there was a guarantee of $666, but barring that, we're looking for shows outside of H'burg, so if you've got a room wired for electricity, hit us up. We like art centers, damp basements, hidden grottoes and desecrated churches best.
In other news, the Spotted Opossum is looking forward to first grade. The truck is leaking transmission fluid. The Supreme Court took a step toward allowing basic human rights to gays, lesbians &c in the United States, but also gave corporations the green light on dumping mercury, lead and other known toxins into the environment and gave the thumbs-up to prisons executing people using potentially painful drugs. The blackberries are dripping off the vines and the wineberries are about to pop out. God is in Her Heaven and all is right.
There's probably something else.


- A number of years ago, a friend turned me on to Spacemen 3. My first impression was that they were on a lot of drugs. Then I realized they were singing about Jesus, which I thought was a joke. After a dozen or so songs, I realized they were sincere, which made me love them that much more. Massive drug abuse and metaphysical devotion go together like cornbread and beans. And the Spacemen know how to drive a fuzzbox.

- I had a conversation with Ira Kaplan once, when I was eighteen, during the course of which I asked him for his thoughts on distortion pedals. Mr. Kaplan advised me to get a Rat. I took his advice and purchased a Rat distortion pedal, which proved to be perfectly adequate, though not spectacular. I don't know what happened to that pedal. I assume I sold it for drug money.

I find it amazing that the guitar-destroying, feedbacking maniac whose opinion I sought regarding distortion pedals devolved into the gutless, twee pantywaist he is now.

- I have a young, female friend who I regularly refer to as "my taxidermist". I am, of course, capable of doing my own tanning and such, but I have numerous demands on my time and she really enjoys working on the various specimens I take to her, mostly roadkill. I pay her with doe skulls, which are very easy for me to obtain and which she sells via the internet to people who want animal skulls but who are too lazy or stupid to go out to the country and find a place where poachers dump their carcasses after cutting out the loins.

I've known her for several years. For most of that time, she seemed to be kinda drifting, in the beery way that people in their twenties often do, just sorta stumbling through life with no real drive or direction. Then, she got into roller derby which gave her some motivation and purpose. More recently, she discovered her love of working with dead animals. She isn't licensed to practice taxidermy, but she's working on that and getting practical experience on anything she can get hold of – mice, rabbits, raccoons, deer. I took her a fox t'other day, which she's going to pelt for me. She showed me her basement workspace. She's got skulls in various stages – bear, coyote, the biggest buck ever taken in Rockingham County.

It's wonderful to see someone find their thing, their passion. Especially when it benefits me so directly.

- I know this guy. He's a big galoot, lotta tattoos, shaved head, red laces in his Docs. I didn't say we were friends. We were talking recently, about spiritual matters. I was not at all surprised when he mentioned his interest in Odin, Thor and the rest of the Norse pantheon. I can understand why racists are so into Norse mythology – it's pretty fuckin' badass and the Vikings were pretty fuckin' white. It's too bad though – means that the rest of us have to avoid getting tattoos of Mjollnir. Also, the swastika is an ancient and wonderful symbol which has been usurped by Nazi assholes, although the Buddhists and Hindus continue to use it. Actually, we should all start using swastikas and valknuts to decorate our bodies and homes. Fuck Nazis. They shouldn't get anything.

- There is, somewhere on the internet, a review of My Goddess Has A Crazy Bush, the first in the "Crazy Bush" compilation series. It is a generally positive review. The only track the reviewer didn't like was BDSR's "Prayer To Humankind (Medicine Story)" which consisted of a looped sample from Buffalo Springfield's "For What It's Worth" under this Espresso Shaman reading "Prayer To Humankind" by Medicine Story. It is the simplest, most direct track BDSR has ever done and is 100% sincere. The reviewer said it was like "Beck reading New Age Scientology", or something like that. I don't recall his exact words. I didn't address it because the review of the comp was positive, but I would like to state here, for the record, that if anyone calls BDSR "New Age" or suggests that I am in any way like Beck to my face, I will stomp a mudhole in their ass.

- It's a well-known fact that I am a devotee of distortion. There is no logic or rational underlying my love of fuzz – it's purely emotional, visceral, perhaps animal, sometimes physical. That's the case with the guitar on certain tracks, by Zambian psych outfit WITCH. I experience the lead in "Home Town", for example, in about the same way I experience nipple stimulation – so overwhelmingly pleasurable that my body recoils from it.

- There are a number of BDSR tracks that have the word "brown" in the title – "Brown Sabbath", "Brown Wadada", "Sweet Brown Angel 'N Heavy Syrup". That comes from my nom de guerre, Brown Hat, but also from brown as the color of dirt, trees, many animals and general earthiness. Brown is also the color of shit – the phrase "brown hat" can refer to the poo that is on the head of a penis when it is removed from an asshole – which dovetails with the BDSR tenet that all natural things are sacred, even poo.

(This is as good a place as any to state that we of The Big Drum In The Sky Religion hold and affirm that the Absolute, Infinite and Eternal, Ineffable and Inconceivable, Divine Mystery which created, supports, infuses and is the entirety of all that is and more, is not offended or harmed by, nor is in any way concerned about, whether or not somebody fucks somebody in the ass. It really doesn't matter that much. Have at it. Obviously, we as mere humans are stoutly in favor of all the standard consenting adults, not scaring the horses kinda jazz, but otherwise, do it in the ass all you want. There is, by the way, no good reason to brag about it, post pics to the internet or start a porno-grind band dedicated to it and we really wish you wouldn't because all that does is reinforce the dominant paradigm and encourage people to pay any attention whatsoever to porno-grind, which is a completely useless and puerile form of expression. It may seem that this Espresso Shaman, by assuming the nom de guerre "Brown Hat", is bragging about it, but that is not the case. The name "Brown Hat" properly derives from the fact that said individual frequently wears a somewhat battered, broad-brimmed, leather hat which is brown. It is true that we are amused by the fact that the phrase "brown hat" also refers to the poo that may be on a dick after ass-fucking, but that's incidental and kinda punk in a way.)

As any artist knows, colors are frequently shown on a color wheel. The colors that are opposite each other on the wheel – red/green, yellow/purple &c – when mixed together always make brown. So brown can also stand for the mixture, or integration, of opposites – male/female, good/evil, yin/yang.

And it hearkens back to a minor epiphany I had as a teenage dishwasher in one of my many restaurant jobs. A server set down a bunch of coffee cups, each one partially full and each one containing a different ratio of coffee to milk, ranging from off-white to black, which in the case of coffee is actually very dark brown. When I looked at the coffee in the cups, I saw the full range of skin colors from albino to Ivory Coast. Obviously, Asians and Native Americans were not represented in the coffee/milk, but my brain automatically included them. I knew before then that all people are of the same substance regardless of their hue, but that illustration slammed it home. Coffee is, as you may know by now, a sacrament of The Big Drum In The Sky Religion, which had not yet been conceived when I was a teenage dishwasher, but which nevertheless existed in potentiality, so having the races of humanity vividly portrayed in the tones of this divine substance was a real eye-opener. All human beings are some shade of brown.



-

Great quotes by me:

"Knowing isn't half the battle. Killing half your enemies is half the battle."

"'Pessimism' is what idiots call realism."

"Coffee is proof that God loves us and wants us to be awake."




Powered by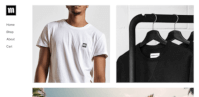 Create your own unique website with customizable templates.